Norman Rockwell, I'm surprised at you.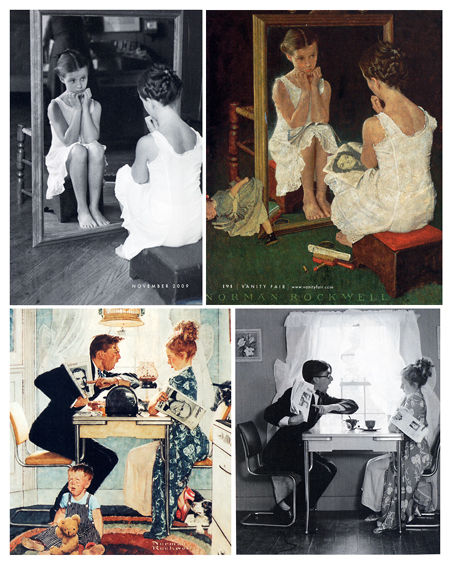 Did you see these? The images above are from an article in last month's Vanity Fair which demonstrated how much Norman Rockwell used photo reference for his illustrations. I am shocked. And all this time I thought he was just a great drawer!
I've generally felt as if I cheated if I copied from a picture. And wow, I never conceived of the possibility that I could hire models, wardrobe them and place them in a set. Just to take a photo for reference for my drawing. (I guess Norman had better budgets to work with than I've had.)
I suppose I shouldn't judge Mr. Rockwell too harshly. As Vanity Fair pointed out, what we've learned is that the man was really a pretty cool photographer as well as being a fine painter and social commentator.
Still and all, it's a shock for us struggling drawer-types.
It prompts me to share an experience I've had with photo reference.
This is an illustration from a children's Christmas book I did for Kids Can Press called "One Splendid Tree". It's a story set in the hard times of World War Two, about a family and a community who can't get a Christmas tree and end up decorating a beaten-up and abandoned palm plant they find in the apartment hallway. In this image the young boy ("Junior") is supposed to be jumping up and down with excitement.

You will see that I resorted to putting Junior down on this hands and knees instead of jumping. Why? Because I was having a nasty time trying to make him look natural doing the jumping up and down thing. I even tried photo reference. Without great success. Perhaps you will enjoy the following video where you can see how that worked out.
Hmmm, I chuckled to myself the day that I was fooling around with that illustration.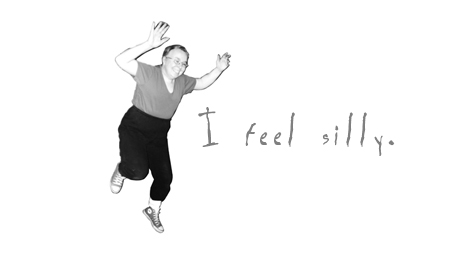 Anyway, that illustration of Junior under the tree is not one of my best efforts in the book. Here's one that turned out better. You may be interested to know that the photo of the soldier father on the radio is actually a photo of my own Dad. It was nice to be able to put that in.

••••••
In my first post, the Visual of the Week was "This is my cup of tea." Some of you wanted to see the tea cup illustration bigger. (I warned you about my softness for very tiny things. But I am happy to oblige,) Here is: "This is my bigger cup of tea."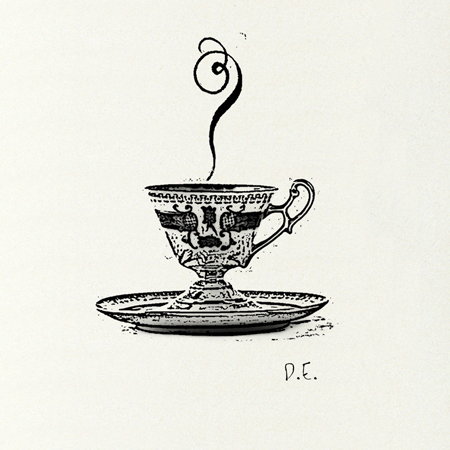 I have also since done a little digital painting on this theme, called "This is my cup of tea 2". See below.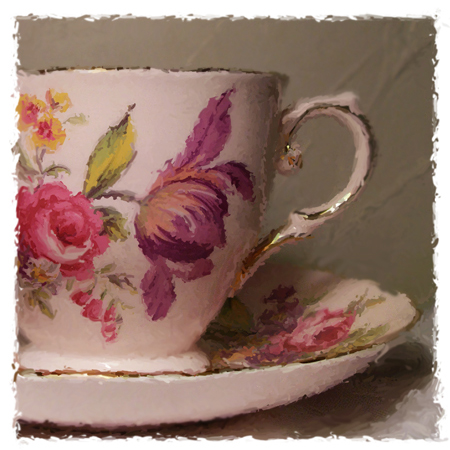 About the cup above:
Thirty nine years ago, in the summer I married Harold, my good neighbours had a Tea Cup Shower for me. I was a little dismayed. I was 20 years old and had no idea what to do with a dozen fancy tea cups. But I hauled them around from pillar to post, over all these years and the one you see above is a survivor. I'm glad now that it made the long trip with us.
See you next week.